Amendments to War Memorial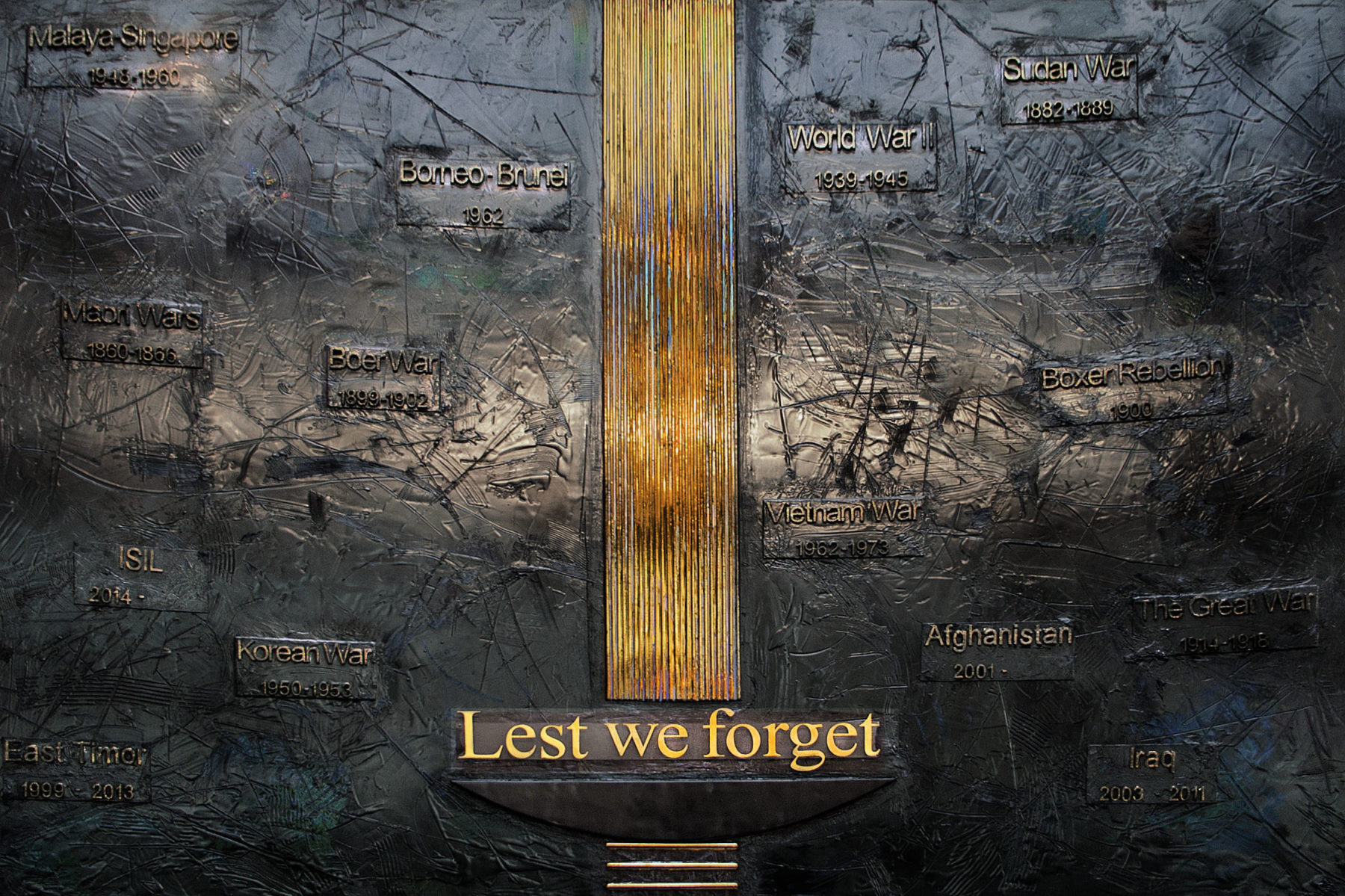 In 2001 I was commissioned to create a wall memorial sculpture for Dandenong RSL. In August 2017 I was asked if I could add four additional theatres of war to the work:
Afghanistan 2001 –
Iraq – 2003 – 2011
East Timor 1999 – 2013
ISIL 2014 –
This was completed last week.  Standing in front of all these theatres of war I found myself feeling very humbled.
War Memorial at Dandenong RSL, Clow street.
Dimensions –  4 metres x 2.8 metres
Media – Mixed media, gold, brass, reflective hologram
———————————————————————————————————-
Article from Gippsland Lifestyle magazine, Autumn 2017 on Kelly & Gemelli – Art & Design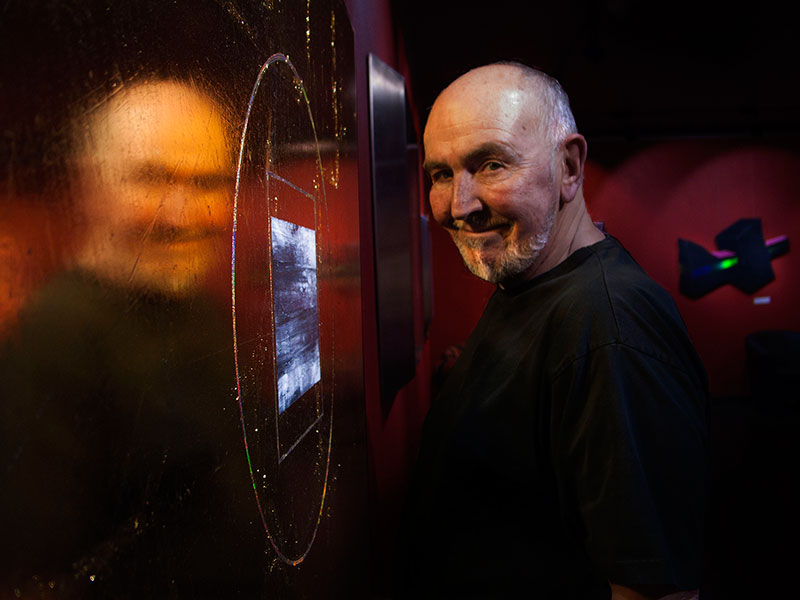 Kelly & Gemelli – Art & Design is owned and operated by Adriano Gemelli and Lynne Kelly.  Opened in 2012 the gallery is located on Phillip Island Rd in San Remo. Our aims are to show contemporary art works that are unique and challenging, conceptually and visually, with contemporary design in furniture and architectural interiors using modern technology.
I see Kelly & Gemelli is going to relocate – is there a reason for this?
Yes it's with sadness. We have a terrific 180 degree view of WesternPort and good traffic flow (3 million people actually). We decided to move to a building where we can include both a gallery and studio in which to show hands-on for designers and architects, major sculpture shows as well as education and community involvement.  This is not possible at our current location as the huge car park at the rear of the gallery we had to build to get our planning permit leaves us with no room to expand here at San Remo.  The gallery functions now as purely commercial and doesn't address many of our passions.
Where do you intend to re-locate to and when?
As yet we haven't decided as we want to purchase a large area to contain a gallery sculpture park and working studio. It is complex developing this sort of thing and takes a lot of time and effort. I expect Kelly & Gemelli – Art & Design will be operating as normal in San Remo for the next 12 months at least.
Your next exhibition is a portrait show – the title of the exhibition interests me. "Faceless, who nose who? Perpetual change in the looking glass – Portraits"
A large percentage of my work explores change in the environment and objects.  This has been helped by the use of reflective hologram which gives 3D and spectral change of light in conjunction with other media.  Commissioned and self-portraits, have been an important part of my life since my time with Cliff Pugh.  When one thinks portrait one thinks of a static moment in time. So far from the truth of reality.  I can't think of any artist that confronts this issue of our changing physical and mental consciousness.  As far as visual artist, Francis Bacon comes close, whereas poets such as TS Elliot in Burnt Norton confronts it head on (excuse the pun).
"Time present and time past
Are both perhaps present in time future
And time future contained in time past.
If all time is eternally present
All time is unredeemable.
What might have been is an abstraction
Remaining a perpetual possibility
Only in a world of speculation." T.S Elliot – Burnt Norton
This show is an ongoing exploration of the state of change.  I find this an interesting challenge when one explores the transitory change of individuals/self. It begs the question of likeness in transition. Is this also held in space and time for it to be a portrait of an individual?
Some people I know don't see the person in the mirror as themselves, but as a contrived avatar in their minds.  Youth stays with the old. That's the sitter – what of the artist and other viewers?
Is this a solo exhibition?
Yes, however Kelly & Gemelli are always looking for innovative conceptual artists.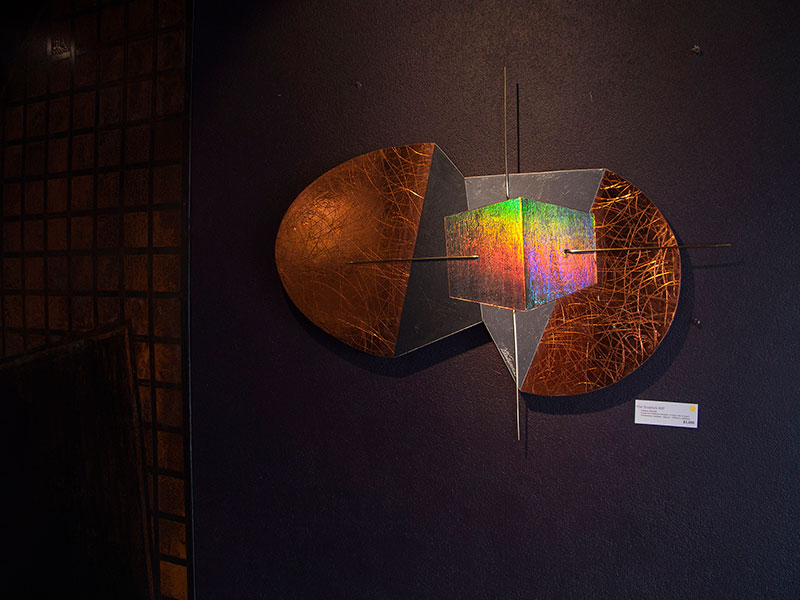 What would you say to an artist just beginning?
Be aware its now a world stage and its (the art world) moving fast.  Don't copy others. Find yourself – you do yourself a disservice not to find what you're are capable of (self-realisation is worth its weight in gold!). Learn as much as you can about technology – it's a building block for your visual vocabulary. Look further than visual art.  Music, design, architecture, fashion.  See dedication in others and acknowledge it. Be prepared – it will cost you many things.  Art is expensive to self, just now and again you will experience something, in all this hard work – a glimmer of why you do it.  What goes hand in hand is freedom.  Freedom of mind, personal concept evaluation to doubt everything you do, think, re-evaluate the society around you.  Do your own research. Seek out thinkers who re-evaluate continuously that see a concept is only a moment in time to achieve a destination on an infinite journey of dark corridors, dead ends and eye openers. Good luck. Explore, explore!! P.s. don't be a smarty-pants.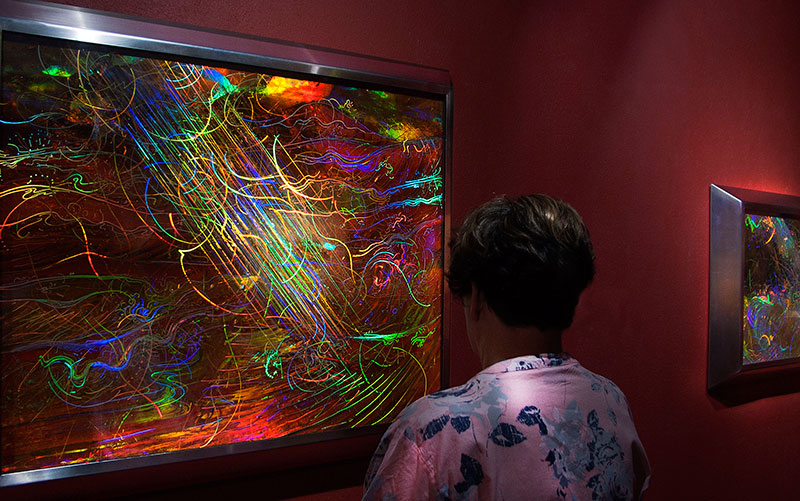 How did you start as an artist?
'I have been drawing all my life.  When I was working as a hairdresser in my late teens, I was also drawing portraits. One of my female clients sponsored Clifton Pugh and she was very emphatic that I go and see him, and insist that he teach me to paint, which I did. When I arrived, Cliff, dressed in a sheepskin coat speckled with paint said 'no'.  I persisted and eventually Cliff succumbed.
I was one of the few to obtain a studio at the art colony Dunmoochin, Clifton Pugh's place in Cottles bridge, about 48km from Melbourne.  I spent seven years there during the 1970s – in fact my art career was started by a wombat.  Cliff allowed me to live in and use what was John Olsen's studio.  Initially the studio was earmarked for a lecturer from France who was supposed to come and teach everyone Hayter's method of colour etching. He only stayed one night because a wombat ran through the building and frightened him.  That's how I go the studio.
In time I became in charge of the etching studio and Hayters method of colour etching which allowed me to interact and work with Cliff, Frank Hodgkinson, Fred Williams and others.  This was a wonderful opportunity to talk with the other artists such as Tucker and Percival.  Not to mention the cricket match every Boxing day at St Andrews between the artists and writers.  Fred Williams would always arrive in his whites; Perceval was there, as were George Baldessin, the Reeds, virtually everyone in the art game.   In a peculiar way it really was a part of our art history in one spot. I didn't realise it at the time – it just seemed the normal operation of things and I worked on a continuous basis – up to 14 hours a day – painting, etching and drawing. Now, on reflection I see it as absolutely pivotal to my development as an artist.
But most importantly it allowed me the opportunity to experience how professional artists operate with various concepts, techniques and it was extremely enriching. Although not being formally trained, so much knowledge was first hand which sent me on a path of exploration and discovery which has stuck to me even till today.
What's your advice to people wanting to buy art?
There are many criteria.  In the gallery, we don't sell to people. We prefer our buyers to browse through the gallery and discover that art work which is perfect for them, and brings them joy. It's a little like finding a lover – you know what you like. However, with a little knowledge you don't wind up with the toad. We also offer our customers a 'cooling off period" if they find the work isn't right. They can exchange for another work of equal value.
If you could own a painting by any artist, who would it be?
Oh, so many – Cy Twombly, Francis Bacon, Aslem Kiefer, Goya, a drawing by Michelangelo, Velasquez.   To narrow it to Australia, Fred Williams – he changed my vision of the Australia landscape – the power of art – and he was a wonderful human being.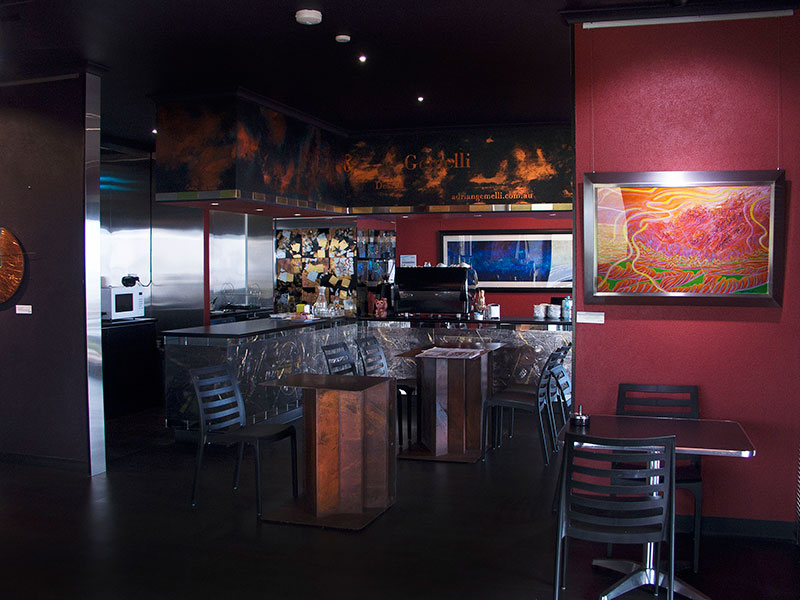 As a commercial gallery, you seem very generous to your artists – only charging a commission of 33% with no other fees?
As a working artist, I realise how expensive it is to produce work; from frames to material. We see ourselves as an artist run gallery and try to support them with an opening, advertising and documentation.  Some city galleries are now charging 50% commission and ask for advertising costs.  However, for the time being we try to stay the way we are.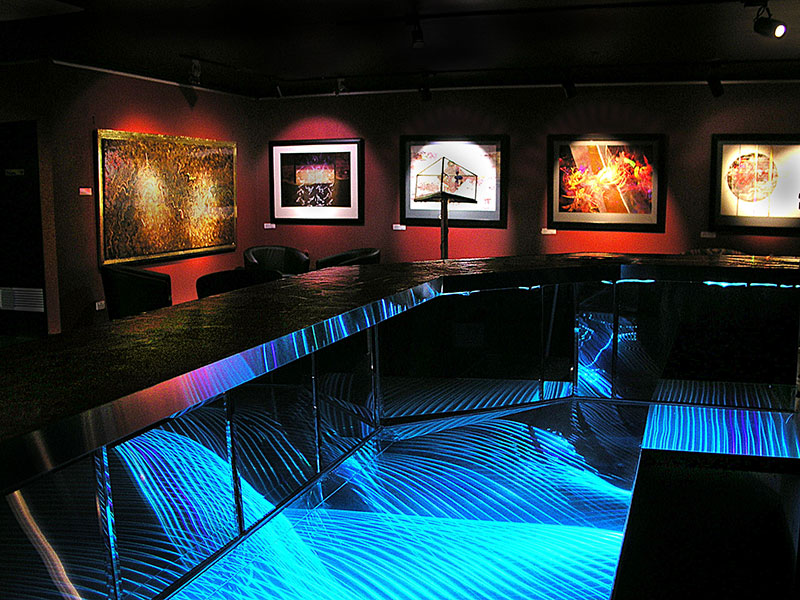 Did you create the design elements I see throughout the gallery?
Yes, mostly.  We wanted to show examples of the design possibilities with various materials from gold tiles, through table designs to mirror mosaic and decorative panelling.
Adriano's next exhibition "Faceless, who nose who? Perpetual change in the looking glass – Portraits" opens at Kelly & Gemelli – Art & Design, 57 Phillip Island Rd, San Remo on 1st April.
————————————————————————————————-
An evening at Kelly & Gemelli
Art, Music, Food & Cocktails
In conjunction with your local business owners from the Phillip Island Tourist Business Association
March 26th we had the pleasure to host a fabulous evening, with cocktails by the amazingly talented Barmazters crew including a demonstration of flair bartending by Clinton Weir , delicious food by the Fat Seagull  cocktails courtesy of Hotel, Phillip Island and great sounds the talented Scotty – resident DJ at Hotel.
Images from the night…
.
.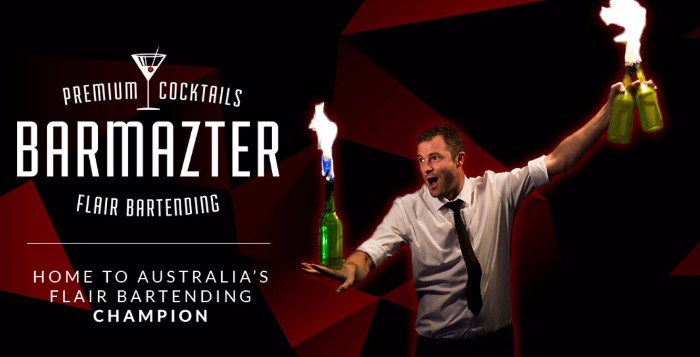 Barmazter is Australia's Premium Cocktail and Flair Bartending Service Company. Specialising in Professional Cocktail and Flair Bartender hire, World Class Flair and Fire Flair Bartending stage shows, Internationally Acclaimed Cocktail and Flair Training and State of the Art Mobile Bar hire.
Their team of specialised bartenders and trainers have served and performed
exhibitions for:
Prince William and Princess Kate at Buckingham Palace for the Royal Wedding
after party // Roger Taylor and Brian May – Queen // Jamie Oliver // Black
Eyed Peas // Tom Cruise // Leonardo Di Caprio // Anil Ambani, Kishor Bajaj &
Maharajas in India // Ellen DeGeneres private Cocktail party – Melbourne
2013 // Katy Price & Alex Reed, England // Cathy Freeman.
Hugo Boss // Ferrari // Channel 7 // AFL // Virgin Australia // MTV //
Hawthorn Football Club // Gucci // Couch New York // iinet // Coles // BMW
// Lamborghini // Bacardi // Vodka O // Tequila Blue // Coca – Cola //
F-Vodka // Red Bull // Agwa Liqueur London // Bombay Sapphire Gin  // Monin
Syrups // Bulldog Gin //
---
Kelly & Gemelli – Art & Design featured on Channel 9's 'Postcards'
March 20th we had the pleasure of the crew from Channel 9's Postcards TV show join us filming the gallery with the current show of Sculptures by Ernst Fries and  paintings by Adriano Gemelli. A great crew to work with and the presentation by Lauren Phillips was enormously graceful.  A big thank you to Lauren, Ellen, Rob & Josh – it was an absolute pleasure.
Missed the show on 6th April? – you can watch again by following this link http://www.visitvictoria.com/Postcards-home?bctid=3465233216001&epic=9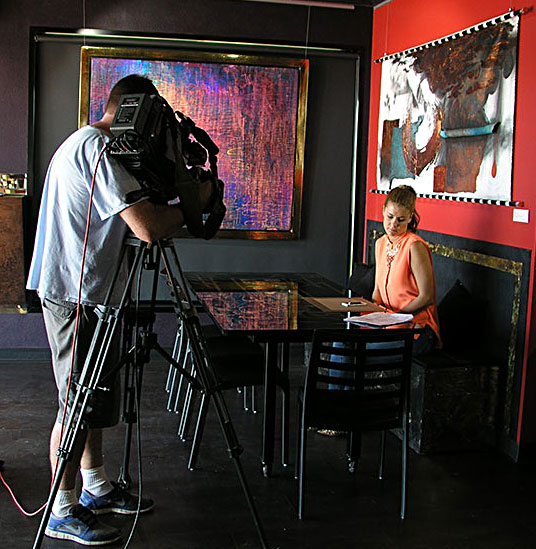 These were the questions submitted for the interview and the responses
Q: Adrian, what made you feature contemporary art in your gallery?
A:  Contemporary art is our top priority – it encompasses many possibilities that reflect our changing dynamic society.  All my working life as an artist has been to seek the new – technically, aesthetically finding my own voice.  It is this approach I look for in other artists, that we can present to our clients & collectors who are seeking something new.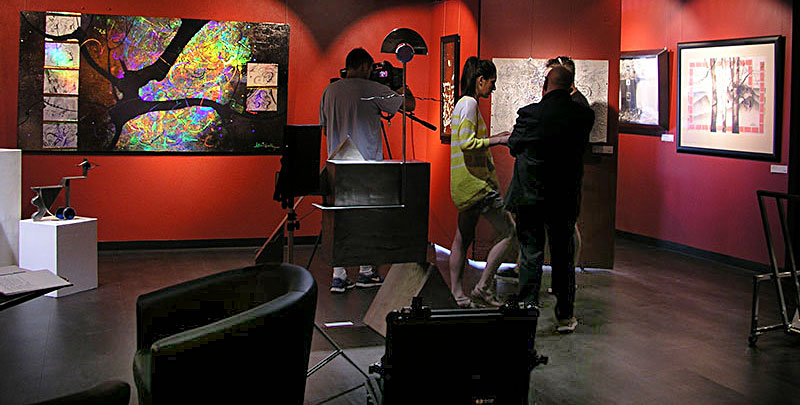 Q: What do you look for in up and coming artists?
A: The term of 'up and coming artist' gives me the impression of youth.  I have a strong feeling for mature artists that through some reason or other have been neglected, yet regardless are still producing work of merit relating to contemporary media and culture and most importantly, challenge their own work to bring about a fresh aesthetic.
That's not to say that youth is not doing a similar thing.  As a Director I would like to cross-fertilise both age groups, perhaps in a group show.  However, in both cases I would be watching for artists working in a progressive way that are aware of changes that are occurring in everyday life, media, culture, material, internet etc. to develop new insights.
We are living in a very exciting dynamic age and we expect from our artist's to show that in their work.
As a contemporary gallery we are open to the new, to present to our clientele. It is a standard we have set for the gallery, from design to structure. It is also a work in progress.  It has to be creatively new and in flux – if we are not excited how can we expect our collectors and clientele to be?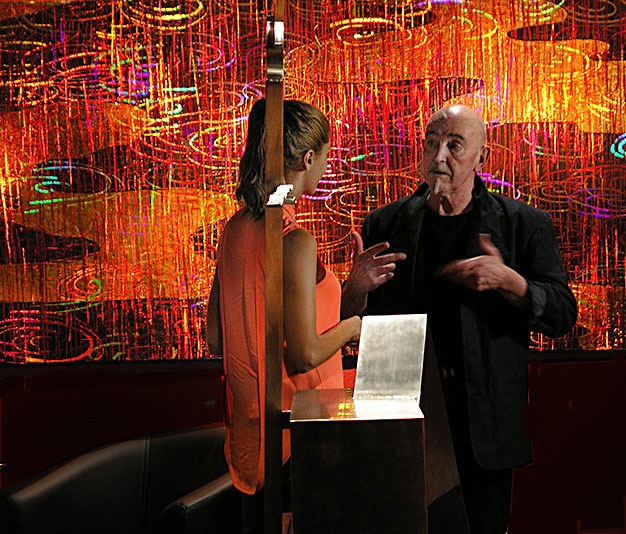 Q: Do you exhibit any of your own work in the gallery?
Yes I do, but as an artist run gallery, my priority lies with our gallery artist's and their promotion and exposure.  At the moment my work is prevalent, but as our stable of artist's increase I will reduce my work to perhaps one thematic exhibition a year.  This will also allow me to concentrate on the running and development of Kelly & Gemelli and promoting to the three and a half million people that visit Phillip Island and the region each year.